LSS Education For Life is an authorized National Safety Council and American Heart Association, Emergency University, Emergency Care & Safety Institute training provider.
Each organization offers online training with the need for hands on verification to receive your nationally recognized First Aid, CPR & AED course completion card. Online programs teach the knowledge portion of the course, clearly presenting learning points using animation, full-motion video, interactive user exercises and real-world simulations. To receive nationally recognized First Aid, CPR & AED course completion cards, you must attend a skills testing session conducted by an authorized skill tester. For your online pass codes and to set a date for your skills testing.
CALL US TODAY AT 508-989-0004
This training center is an authorized Emergency University approved provider for CPR, First Aid and AED training, and has demonstrated the ability to provide high quality, client focused training that contributes to improving the health and wellness of communities nationwide.
Blended Training
What is Blended Training?
Blended training combines multi-media online learning with instructor-led classroom instruction. The lecture portion, or didactic portion is provided via online multi-media programs in order to ensure standardized content for each trainee. The multi-media program maximizes the learning potential of all adult learners by including text for the "reader," audio for the "listener", photos, graphics and videos for the visual learner and animations for adults who learn best by understanding how things work. The program is self-paced, interactive and includes clinical scenarios for practice. It takes approximately 1 hour to complete CPR/AED training online. The 1-hour instructor-led classroom component provides trainees the opportunity to practice their skills, ask questions, and receive motivation and support from their qualified instructors. Blended training combines the best of both worlds.
Here's How Blended Training Works: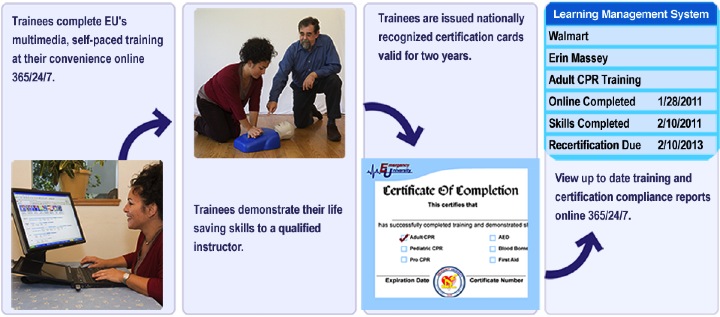 AED Program Management
None of us are satisfied with a 5-8% Sudden Cardiac Arrest (SCA) survival rate! The SCA Response Rate is too low. Emergency University's SCA Program Management Services has a proven track record. Emergency University's clients boast a 100% response rate. That's amazing when compared to the industry standard of 2%.
Responding to an SCA event & helping to save a life…requires much more than:
Hanging an AED on the wall
"Certifying" a few volunteers
Receiving notice to check pads & battery
A Successful SCA Response Program takes:
Organizational commitment
Each person understanding their responsibilities & being adequately trained to fulfill those duties
A Planned, Organized and Practiced response.
Targeted training to create "willing responders"